GALLERY 50
The following model was a test for a feature project that looked like it might help pay off my student loan, so I put some energy into getting the textures right. This work was done with LightWave, but the animation and texturing could have used INSPIRE. The head is by "Taron," who has done some pretty incredible work with LightWave, I changed a few things and morphed some targets.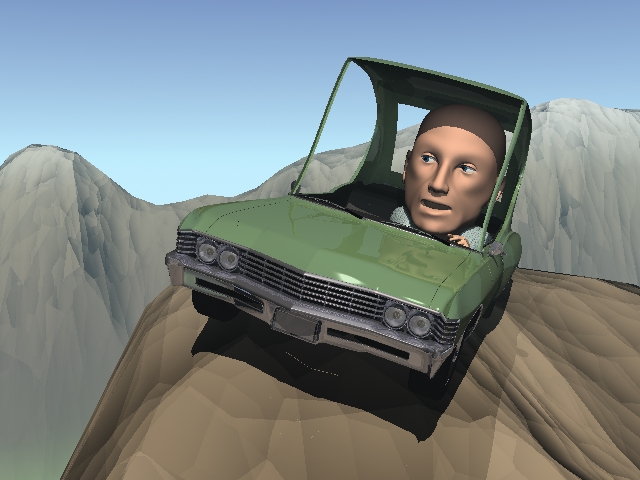 This little project really enthused me, but I could see that the face was not cutting it. Looking at books and websites like www.cgtalk.com , I couldn't help notice a better texture was probably going to make a difference.

Meet Irene King. Worldwide Sales Manager of NewTek. Irene has been employed at NewTek for six years. She started out in Operations, then moved into International Sales. She continued onto the West Coast, then Central and is now working with East Coast as the entire world!

Conforming the Irene face to the modified Taron head began with cloning. The digital source had lots of great pore detail that I was eager to preserve, and maybe pull a specualrity map from down the line. It mystifies me how that a little variation in color can lend so much more naturalness to a model. I should have done a little more work in the eyelash rea; something I "learned by doing" (a concept I oppose) was that texturing the head with the eyelids closed, the upper eyelash picked up little of the color of the lower and looked very natural. Cloning the original might have made it even better. Blurring seemed advisable at the time, but in hindsight, I should have just focussed no more careful cloning and cutting-and-pasting areas. What you gain in cleanliness, you lose in detail that INSPIRE has no problem reproducing.

This is an eyebrow from another source that may be found on the "101 Hard" tutorial page. As you can imagine, the Irene brow was just a little too delicate for the Taron male head, so I used a different woman's eyebrows. : ) . It was added as an "alpha" map to the Irene texture in order to have a closer fit in the brow. A nice dark brow seems to cover up shortcomings. I haven't begun animating the eyebrows yet, but I came across some interesting links on the "three part eyebrow" at www.spicycricket.com .

.
< BACK . .. .. . . . . . . . . . . . . . . . . . .. . . . . . .. . . . . . . . . . . . . NEXT >
c. 2003 Scott Lee Tygett